Marketing Resources for Schools
Here at Envisage International, we provide the best international student inquiries for our partner colleges and universities. We do so by providing the tools necessary for schools to get their name out there and get noticed online. We also take it one step further!
We are here to help schools reach their international student recruitment goals, and that goes beyond just sending inquiries. In order for our partnership to be successful, the school must know how to qualify and nurture the inquiries into applicants, and applicants into actual enrollments. Check out our resources and live presentations below for expert insight into the entire international student recruitment.
International Recruitment Education Video Series
Our new whiteboard video series provides useful information for colleges and universities that are interested in recruiting international students. The series starts with several case studies of schools around the US that have effectively planned and followed through with their international recruitment goals.
An insightful look into the international recruitment strategy of Felician College, a small institution in New Jersey, made successful with a targeted online presence and a timely communication plan.
Google Hangouts for Schools
We recently launched our latest add-on to our school marketing packages, Google Hangouts for Schools. They have been a tremendous success for our school partners that have elected to host one. Take a look at the Case Study on the Hangout we did in February, 2015 with McNeese State University.
This webinar discusses a Google Hangout case study to demonstrate how we use them to communicate with prospective students from around the world. We discuss how school recruiters and admins can use Hangouts to engage with international students and increase their online exposure while creating long ­lasting online content.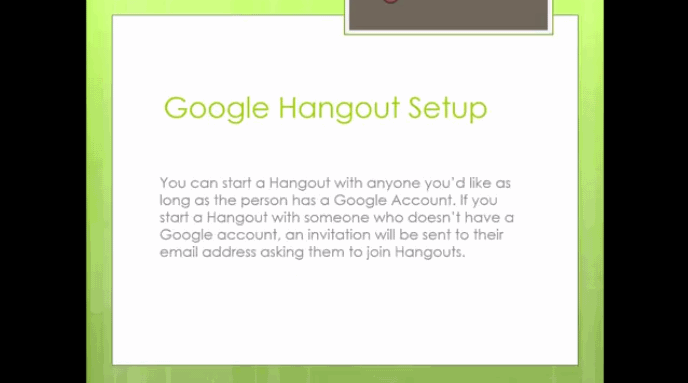 2017 FAIE Presentation
In this session we will show you the importance of the admissions funnel, being authentic, and how to evaluate your communication plan. We will show you good and bad examples of email marketing and email planning for each phase of the admissions funnel. We also dive into the different social media, live videos and messaging apps platforms and how your school can use them.
2016 NAFSA Regional Presentations
"Communicating with prospective international students – Simple, yet so many get it wrong"
This session will show strategies on how to best communicate with international students once they have inquired about your institution.  We will look at good, bad and ugly email communications plans and when to turn to social media and what social platforms to use.
2015 NAFSA Regional Presentations
"Lead Nurturing - Turning Inquiries into Enrollments"
This session will provide strategies on how to turn prospective students into enrollees. We will discuss lead nurturing throughout the admissions funnel, including how to develop an effective communication and marketing plan.
"Using Lead Generation in Recruitment with Limited Staff Resources"
This session will discuss different strategies for lead nurturing with little resources, including best practices for communication that will convert a student inquiry to an enrollee.
2014 NAFSA Regional Presentations
The 2014 international education conference season was a great success! Here at Envisage International we had the privilege of presenting at a number of regional NAFSA conferences around the country. This year, we discussed 'Google+ and Hangouts: The Latest Technology in International Student Recruiting'. Google has morphed into much more than a search engine. It has become a valuable tool in reaching, attracting, communicating with and driving students through your entire enrollment funnel. In these sessions, our audience is part of a live Google Hangout where we demonstrated the growing popularity of Google+ and the importance of a Google+ presence.
You can view these sessions via Google+! Click the session of your choice below to view the broadcast.
October 16, 2014 at 10:45am Pacific: Region II
Presented live from Tucson, AZ by Wini Puglielli and Jennifer Frankel
October 27, 2014 at 3:15pm Central: Region VII
Presented live from Jackson, MS by Wini Puglielli and Karin Lee (Mississippi State Univ.)
October 29, 2014 at 1:30pm Central: Region IV
Presented live from St. Paul, MN by Bryanna Davis
October 29, 2014 at 2:00pm Eastern: Bi-regional X / XI
Presented live from Albany, NY by Victoria Troupe and Aleta Anthony (SUNY at Brockport)
October 30th at 9:30am Eastern: Region V
Presented live from Grand Rapid, MI by Wini Puglielli and Apinant Hoontrakul
November 5, 2014 at 8:45am Pacific: Bi-regional I / XII
Presented live from Portland, OR by Apinant Hoontrakul
November 4, 2014 at 3:15pm Central: Region III
Presented live from Ft. Worth, TX by Victoria Troupe
November 6, 2014 at 10:45am Eastern: Region VIII
Presented live from Williamsburg, VA by Wini Puglielli and Jennifer Figuroa (Bucknell University)
2013 NAFSA Regional Presentations
In 2013, Envisage traveled around the country teaching international educators how to 'Build a Comprehensive Web Presence'. View the presentation from the different NAFSA Regions below:
---
Contact us if you have any questions about these resources or to see how we can help you with your international student recruitment strategy.