International Student Recruitment News
Trends in International Online Education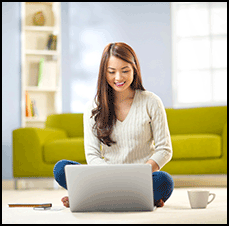 As the cost for higher education continues to increase and the value proposition of post-secondary education comes under increased scrutiny, a trend is developing where traditional colleges and universities are turning to online degree programs as a way to service a larger student population, fulfill students' educational needs, and, let's face it, increase revenue. Until now, online learning has been a market largely served by for-profit schools but as student loan debt continues to skyrocket, there is a growing demand for traditional colleges to offer high quality and affordable online degrees.
Higher Education Value
We all know that from the students' perspective, they are looking for the best value for their educational dollars. This rang true in President Obama's State of the Union address in February where he called for accreditors to take into account "performance and results" in evaluating colleges and universities. This will give current and future students the ability to evaluate the potential return on investment and weigh the price versus the educational value. Online degrees are one way in which schools can balance this value proposition.
Not-for-profits Go Online
Until recently, online degrees belonged largely to the for-profit universities. So how are traditional, non-profit universities competing with the for-profit schools for online students, who in 2012 spent over $2 billion in advertising?
One answer is cost. More and more traditional schools are offering affordable, quality online degrees. In fact, looking at the 20 least expensive schools that offer online degrees, only one for-profit school offered credit hours under $400 and of the top 10 most expensive schools for online degrees, there is only one non-profit school on the list. Furthermore, traditional colleges and universities continue to offer in-state tuition for online programs for students located out of state. That is not only a great trend for domestic students but international students as well. These in-state solutions are now offered in 29 states, including the 15 largest states (including New York, California, Texas and Florida).* Some schools are offering credit hours as low as $200 per credit hour compared to the $400-$600 charged by the for-profits.
International Education Online
Now, let's look at the international student market potential. International students are looking for the same thing that a domestic student is looking for: return on investment, and in many cases, a US-based education that will give them the best opportunity for success. Unlike domestic students, government grants and US scholarships are largely unavailable for international kids, so the value proposition is even more critical.
Many international students will still want to come to the US, for all of the obvious reasons. For those that cannot, though, either for cost reasons or career/life disruption reasons, online education opens up a whole new world. International students can earn a US degree online at a reputable state school at in-state tuition, with no visa required and no travel costs.
We would love to hear from you with thoughts on this topic. Please visit our LinkedIn Group page to let us know if your institution offers or is considering offering online degrees for international students, or any other thoughts you may have on the topic.
*Thanks to Paul Ginocchio, Deutsche Bank, for his excellent discussion of not-for-profit online education at LeadsCon and for sharing his backup research.