Tuesday August 13th, 2013 - Issue #23
International Education News
This issue is all about new student resources that we are excited to roll out, just in time for the new academic year. First, we're delighted to launch our US Healthcare video. This video is designed as a brief overview to the US healthcare system for international students, with very straightforward guidance on how best to get medical care. Read more below, and get it free for your orientation!
Not to be outdone, International Student Loan has published an infographic, in partnership with GoAbroad, that tells the tale of two international students trying to fund an education at two very differently priced schools.
Finally, last month we launched the "Ask an International Student Advisor" section on InternationalStudent.com. The response from our community has been very positive, so we plan to continue facilitating this interactive dialog between international students and advisors. First up was Cecilia Wolf from the University of Tampa, who fielded several questions in July, and this month Deborah Parris from Embry-Riddle Aeronautical University is answering questions from international students. If you are curious to see what type of questions were asked to Cecilia or Deborah please read more online, and if you would like to be a featured advisor please contact Jennifer Frankel for more information.
Please contact us if you have ideas for future newsletters, any comments, questions or concerns.
International Insurance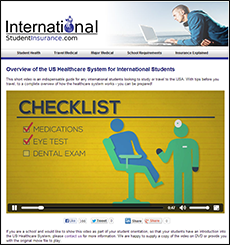 International students always have a tough time trying to work out the complex healthcare system in the US. Many students come from a nationalized or otherwise more simple healthcare system, and upon arrival in the US they are faced with a complex web of providers that includes on-campus clinics, urgent care centers, local doctors, hospitals and even the ER. Layered onto the provider puzzle is their insurance plan, with its own network and financial complexities.
To help students understand the system, we have developed a 6 minute video that aims to guide students on how to seek care when in the USA and how to use the US healthcare system effectively and efficiently. The video is designed to be highly educational, but also fun, so that students can relate to and understand the core concepts.
Students can watch the video on our site. We are also making the video available free to schools who wish to play it for their students during orientation, or to add to their website. If you would like to receive a copy of the video on DVD or for your website, please contact Ross Mason.
International Financial Aid
Financial Aid for the New School Year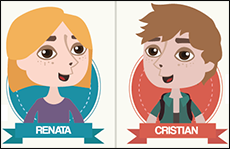 With financial aid on everyone's mind as the new school year approaches, International Student Loan is excited to announce a new infographic detailing two international students' efforts to fund their US education. See how Renata and Cristian, two international students in the US, tackle very different financial challenges that come up while they pursue their degree. Renata attends a school that costs $70,000 per year, while Cristian's school costs just $18,000. But they each must put all the pieces together to meet their needs!
The new infographic is just one part of an enhanced resource section on the site geared at helping students navigate a financial course through their international education. Within this section, we address the needs and concerns of funding for international students in the US as well as US students overseas. If you have students facing these challenges, visit our updated Resources page.
Online Marketing & Student Recruitment
Special Welcome
This month we wanted to send a special welcome to our new partners, and a big thank you to current partners that will continue with us on InternationalStudent.com.
We are pleased to have Concord University continue our partnership for another year. Concord has a Featured Profile on InternationalStudent.com and is reaping the benefits of the recently redesigned site, as the number of monthly student inquiries has increased by over 50% since the relaunch.
We are thrilled to welcome aboard the California Flight Academy. CFA, located in San Diego, offers international students several different aviation and pilot programs - from personal flight lessons to becoming a commercial airline pilot. In addition to their Featured School profile, CFA is a great fit for our Study Aviation Section on InternationalStudent.com.
National University is now entering their third year on InternationalStudent.com. We will continue to promote their more than 100 undergraduate and graduate degrees in the area of business management, engineering, education, media and communications, liberal arts, and healthcare. National University continues to be a very popular Featured School.
Upcoming Industry Events
Conferences
NACAC (National Association of College Admission Counseling), Sep 19-21 - Toronto, Canada
WYSTC - September 17-20, Sydney Australia
NAFSA Regionals - Stay tuned for our 2013 schedule
Contact us and schedule an appointment if you are attending any of these events, as we would love to see you.