View Online

|

Share

|

Unsubscribe
Monday April 7th, 2014 - Issue #31
International Education News
Like many of you, we are now deep in planning for the NAFSA Annual Conference in San Diego, coming up at the end of May. We have two booths right next to each other, Envisage International (booth 1440) and International Student Insurance (booth 1442), so we will be there in force. Next month we will devote the entire newsletter to NAFSA Conference planning. One big piece of the puzzle for us is in place - as discussed below, we have updated our primary insurance plans for 2014 and will have brochures and other printed materials ready prior to conference time.
Tax filing deadline is right around the corner, next Tuesday April 15. Every international student needs to file at least one form, so read below for new tax resources to help your students.
Looking forward to seeing many of you next month!
Keith Clausen,
On behalf of the Envisage International Team
Insurance
New Plan Enhancements

We're excited that our two key individual insurance products; Student Secure and Atlas Travel Medical, will continue to be comprehensive and affordable in 2014! With premiums for student group plans on the rise (an impact of the Affordable Care Act) many international students are turning to individual plans.
The IRS confirmed last fall that international students are exempt from the ACA. International students on F, J, M or Q visas are automatically classified as non-resident aliens for at least their first 5 calendar years in the US, meaning they are exempt from the ACA individual mandate during that period. Therefore, individual plans that have been designed specifically for international students are an excellent alternative to the increasing costs of student group plans. Individual plans offer more options in plan design and allow student to purchase plans with benefits based on their own health needs like coverage for sports, maternity, and mental health, with very low deductibles and out of pocket costs.
If you would like more information on the ACA and international students, please watch our webinar – Individual Students and the Affordable Care Act.
Health Insurance for the J Visa
Students on the J visa are still required by the U.S. Department of State to have very minimal levels of health insurance coverage:
$50,000 – accident/sickness
$7,500 – repatriation
$10,000 – emergency med/evac

It's no secret that unexpected healthcare costs can create a financial hardship for anyone, especially if you don't have adequate health insurance coverage. We recommend that students on the J visa purchase at least $100,000 or more in coverage – if their budget allows. Accidents and sickness can occur at any time and in the US a $50,000 policy could be easily maxed out.
For more information on "best practices for J-1 health insurance", please check out our latest blog post.
Envisage International News
Featured Schools Update - Your Personal Consultant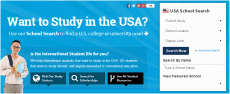 Included in all the Featured School Packages is a designated account consultant whose main job is to ensure the success of the campaign. Your account consultant serves as your main point of contact, so when you need to update information on your profile, add a new video, swap out a photo, your account consultant is one call or email away. In addition, they can help you develop a communications plan, share best practices in handling inquiries and advise you in what our successful clients are doing to turn inquiries into enrollments.
To upgrade to Featured School is only $1,995 for a year's worth of exposure and includes an uncapped number of inquiries and unlimited advice.
Contact Wini Puglielli for more information.
Loans / Financial Aid
Taxes for Your Students Are Due April 15th!
All international students and their dependents must file their tax return by April 15th. If your students haven't yet filed and need help doing so, our Student Tax Return center can help. Here your students can learn which forms they need to fill out, how to do it, and where to send the forms. Remember, all students and their dependents will need to fill out Form 8843, regardless of whether they have had any income. And for those with any source of income, there will be additional forms to submit - most students can use the simple Form 1040NR-EZ. The good news is, most students with income will receive a refund!
New: Check out our new tax video that will help your students fill out the correct forms!
Technical Talk
What device, browser, or app do you use to check email? More and more users are using their smartphone for email. In December, email opens on mobile devices topped 50% for the first time, and the trend is growing.
What does this mean for companies that use email as a means of communicating with customers? It means developing emails that work well across a wide-range of devices and platforms. Sounds easy enough, but with no single email standard, hundreds of devices, multiple platforms, webmail providers, desktop clients, and different rendering engines….designing an email that works well and looks good can be challenging.
Upcoming Industry Events
Conferences
Alabama Association of International Educators (AAIE) - April 10th, Troy, AL
NAFSA - May 26-30th, San Diego, CA
Contact us and schedule an appointment if you are attending any of these events, as we would love to see you.