Our 2016 Predictions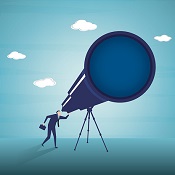 Happy New Year! In keeping with tradition, our January newsletter is devoted solely to predictions for the coming year in the world of international higher ed, student insurance, and internet marketing - all the things we spend time thinking about. Visit the December 2015 newsletter to see how last year's predictions played out.

We hope you enjoy the newsletter, and all the best in 2016.

P.S. Envisage International is hiring!
---
International Enrollment at Community Colleges Picks up Speed

After a peak in international enrollment in the 2008/2009 school year (97,000 students), then four years of decline, community colleges have seen a slight uptick in enrollment (4.3%) for the last two years... Read more >>>
(Only) 20,000 More Chinese Students Study in the US

As the number of Chinese students in the US continues to grow, the percentage growth has been slowing for a variety of factors - read last month's blog post for an overview. But this year the slowdown will hit the real numbers... Read more >>>
Popularity of ACA Plans Decline

Schools are increasingly looking at non-ACA compliant insurance plans as they are often more competitively priced and more appropriately tailored to the needs of international students... Read more >>>
Death of Mobile Apps vs. Responsive Sites

"Death" might be an exaggeration, but after the heady rush to code every possible site as a mobile app, the pendulum is swinging back as site developers build better sites with responsive layouts that work just as well on the device as they do on the desktop.... Read more >>>
US For-Profit Schools Continue to Internationalize

2015 proved to be a tough year for US for-profit colleges and universities, which lead to a big push towards international student recruitment into US campuses and the development of new campus locations overseas. For instance... Read more >>>
Campus "Hot Topics" are Addressed and Battled

Topics like sexual assault, mental health, Title IX, and racial discrimination were in the news and engendered a lot of discussion in 2015, but 2016 will be the year that schools make real strides on these touchy topics... Read more >>>
The Use of Commissioned Agents will Continue to Increase in 2016 in the U.S.

We admit, we predicted this in 2015 as well, but it is kind of a no-brainer with the NACAC decision from a few years past. We attended ICEF in Miami in December, their largest North American event ever. They saw an overall increase in attendees by 9%... Read more >>>
PHP 7 Hits the Scene

Early benchmark tests indicate that PHP 7 is twice as fast and uses just half the memory of version 5.6. In developer speak, this is a RBD (Really Big Deal). To the rest of us, it means websites can be much faster, and much cheaper... Read more >>>
Dependent Insurance Hard to Come by in 2016

Coverage for dependents has always been expensive on insurance plans, but now with ACA plans requiring full maternity, wellness and pre-existing condition coverage, many school insurance plans are suffering from much higher... Read more >>>
More Colleges and Universities Adopt Instagram

As the attention span of the world continues to shorten it's no wonder that Instagram reached 400 million users in 2015 (and is estimated to reach 106.2 million by 2018) - in just a split second you're able to receive an update on those you follow without having to read a single word... Read more >>>
---
Employment Opportunities
At this time, we have the following Career Opportunities available. If you are interested in any of the positions, please submit your your resume and cover letter to: jobs@envisageinternational.com

See Full Job Descriptions Here.
---
Upcoming Conferences
January 21-22 - EnglishUSA, Monterey, CA
February 4-7 - SunshinePHP, Miami, FL
February 21-24 - AIEA, Montreal, Canada
February 25-26 - FAIE, Tallahassee, FL
March 4 - AIE, Tucson, AZ
March 16-18 - CONAHEC, San Luis Potosi, Mexico
March 19-21 - WETM/IAPA, Atlanta, GA
April 14 - AAIE, Montgomery, AL