International Education News
Welcome to our NAFSA Special Edition newsletter! Instead of our regular fare we offer you a guide to important parts of our NAFSA week, letting you know who's going and what we're doing to make it easier to connect. Ease into the week with our reception Monday night featuring live music, hors d'oeuvres and cocktails. We'll have a big team - ten of us - with two booths, one for insurance (ISI) and one for student leads ( InternationalStudent.com) - so we will have plenty of coverage. And once again we're presenting a session on a very important topic, this time as Best in Region from Region X.

Looking forward to seeing you at the end of the month!

Keith Clausen
President
For the Envisage International Team
---
Sexual Assault Training Session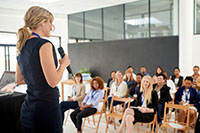 Yessica Prato, Marketing Coordinator at ISI and newly-minted US citizen, will chair the session "Sexual Assault Training for International Students." This all-star panel won Best in Region at the Region X Conference in the Fall, so they're on to the big show to do it again! The session offers specific tips and resources to train your international students on sexual assault and consent, opening a lens on the cultural differences around this important topic.The session features our free multimedia training program that hundreds of schools around the US are now using. Please join us at the session and if you can't make it, feel free to download the training package.

Sexual Assault Training for International Students
Wednesday, May 30 from 2:30 PM to 3:30 PM
Presented by:
Kati Lake, Vice President of Consulting Services at RAINN
Inga Mezale, Deputy Director of International Student Services at John Jay College of Criminal Justice (CUNY)
Cory Owen, Assistant Dean of International Advisement & Diversity Initiatives at The Juilliard School
Yessica Prato, Marketing Coordinator at International Student Insurance
---
Our NAFSA Kickoff Party
Start your NAFSA week off on the right foot by joining us for our annual reception located in the vault of a converted bank. Within walking distance from the convention center, and one block from city hall, we are hosting an evening of cocktails, hors d'oeuvres and live music. Invitations are going out now, so if you have not received one and are interested in joining us, please let us know and we will add you to the list!
---
Visit International Student Insurance at NAFSA
Booth #P1603
At the ISI booth, we'll be previewing our free resources for your students like our mental health video, US healthcare video and sexual assault training program that we created in partnership with RAINN, while discussing our group and individual health insurance options for:

International Students
Study Abroad
ESL Schools
Scholars
Visit the International Student Insurance team in the exhibit hall at booth P1603 or schedule an appointment with our team:
---
Three Reasons to Vissit InternationalStudent.com
at Booth #P1604
In case seeing Don, Ross, Rachel and Bryanna isn't enough - here's three good reasons to book an appointment or stop by the InternationalStudent.com booth this year:
Student Reach: With over 9 million international students coming to our website from over 200 countries, we are the #1 destination online for international students.
Marketing Solutions: Whether you are looking for exposure or student leads, we have online featured school and lead packages to suit all budgets.
Free Coffee: We are giving away coffee! Bring your postcard to the booth or mention this newsletter to get your free $5 Starbucks card!
Book an appointment with us to see how we can help you recruit more students!
---
Conferences & Events
May 27 -June 1: NAFSA, Philadelphia, PA

InternationalStudent.com - booth #P1604
International Student Insurance - booth #P1603

June 12 - 15: DockerCon, San Francisco, CA
June 12 - 14: Global Internship Conference, Detroit, MI