International Education News
We love International Education Week! Not just because it magically coincides with the announcement of the winners in our InternationalStudent.com Travel Video Contest each year, or that it semi-officially marks the end of the Fall travel season, or that we get to geek out on all the data from a new IIE Open Doors report. Although these things do excite us, mostly we love IEW because these and many other events come together to remind us of the tremendous goodwill created by this industry we all share, helping to enable transformative experiences for millions of students around the world. Keep up the good work!

Keith Clausen
President
For the Envisage International Team
---
The Finalists and Viewers' Choice Winner Announced
The 2018 InternationalStudent.com Travel Video Contest is in full swing and excitement has continued to snowball with the announcement of the finalists. We received videos from around the globe, each telling their unique tale that inspired, humored, and delighted us. Although a difficult task, we narrowed down the nearly 100 entries to just 11 finalists, and when combined with our Viewers' Choice Winner, we have 12 videos heading into the final round. The desire to fulfill an international education dream has no borders as our finalists represent the following home countries: Uzbekistan, Colombia, Vietnam, Ghana, United States, Philippines, Brazil, Kenya, Dominican Republic, Nepal, and Malaysia.

A special congratulations to Kaleema Lowery for winning the Viewers' Choice Award of $1,000 and automatic entry into the finalist round with her video, "Leaving Routine Behind." Kaleema is from the United States and plans to study in the intensive Korean language program at Sogang University in South Korea.

Our panel of judges will take the next step in naming the first ($4,000), second ($500), and third ($250) place winners. Explore each of the finalist videos and stay tuned, as the winners will be announced on the last day of International Education Week: November 16th.

---
Mental Health Awareness Training Program is Now Available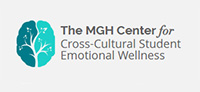 International Student Insurance, in collaboration with the Mass General Hospital (MGH) Center for Cross-Cultural Student Emotional Wellness, has developed a comprehensive training to help students address culture shock and stress, the stigma and myths around mental health, how to manage their emotional well-being and how to seek mental health counseling.

This free training is designed for international educators to bring awareness on the topic to their campus by presenting information in a digestible way that sparks conversation. The training has five key components:


Powerpoint presentation
Proctor guide with full script
Engaging activities
Videos
Student handout

The MGH Center for Cross-Cultural Student Emotional Wellness is a unique group of clinicians, educators, and researchers who are passionate about understanding and promoting the emotional health and psychological resilience of students and scholars from diverse cultural backgrounds; we are delighted to have collaborated with them to create this mental health training program for colleges and universities. Get more information and request access to this free resource.


---
Session Information is Still Available
This year both InternationalStudent.com and International Student Insurance attended and presented at ten of the eleven regional NAFSA conferences. If you missed us at the conferences you can still have access to the information and resources we presented on. We hope to see you at the regional conferences next year, if not in D.C. first!

InternationalStudent.com
The InternationalStudent.com team presented on email communications plans, a topic we chose because not all colleges and universities have a solid email communications plan in place, or could use a tip or two to make theirs better and enhance their international recruiting efforts. In the presentation, we covered topics such as:


Knowing your audience so you can tailor your message
Creating a remarkable subject line to entice opens
Using engaging and relevant content to move students through the admissions funnel
Tracking and testing to ensure maximum delivery and results

Take a look at all of this year's InternationalStudent.com regional NAFSA presentations.


International Student Insurance
One of the key International Student Insurance team goals this year is to promote mental health awareness and emotional wellness among international students in the US and around the world. To help reach this goal, our NAFSA presentations go hand-in-hand with the previously mentioned, groundbreaking training program launched last month, and are aimed at helping educators reduce stigma and raise awareness on mental health.

To view the International Student Insurance regional presentations around training international students on mental and emotional wellness, please visit the presentation page.


---
2018 Open Doors Report Released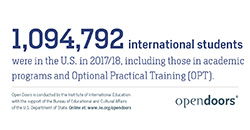 The Institute of International Education (IIE) has released the 2018 Open Doors report for review, providing comprehensive information filled with insight into the world of international education. This year, the number of international students in the US increased by 1.5 percent to 1,094,792, keeping the United States as the top host for international students globally. However, continuing the trend of last year's report, we see again that while the overall number of international students in the US has increased, new student enrollments fell by 6.6 percent.

Although China, India and South Korea all remain at the top of the list when it comes to countries of origin, growth from China and India has slowed and the overall number of Korean students in the US is down. Other items of interest include California and New York maintaining their top two positions on the list of states hosting international students, both with an increase in enrollments. Alternatively, we see that 4 states in the top 10 of hosts reported a decline, including Texas, Ohio, Michigan, and Indiana.


---
Could Improved Technology Mean a Safer Ride?
Whether it's a short-lived road trip or a new car purchase, students spending time behind the wheel can be stressful for academic advisors since ensuring they have a safe experience is a top priority. Along with the typical dangers found in driving, in recent years cell phone use has been added to that list. In fact, eighty percent of college students text and drive, according to a US News & World Report article.

However, new technology could add a (small) relief to worry as it relates to the safety of students when driving. Read how speech recognition software could help your students when it comes to safely getting where they need to go.


---
Conferences & Events
ICEF North America, December 10-12, Miami Beach, FL